Yang Ping's Left Ankle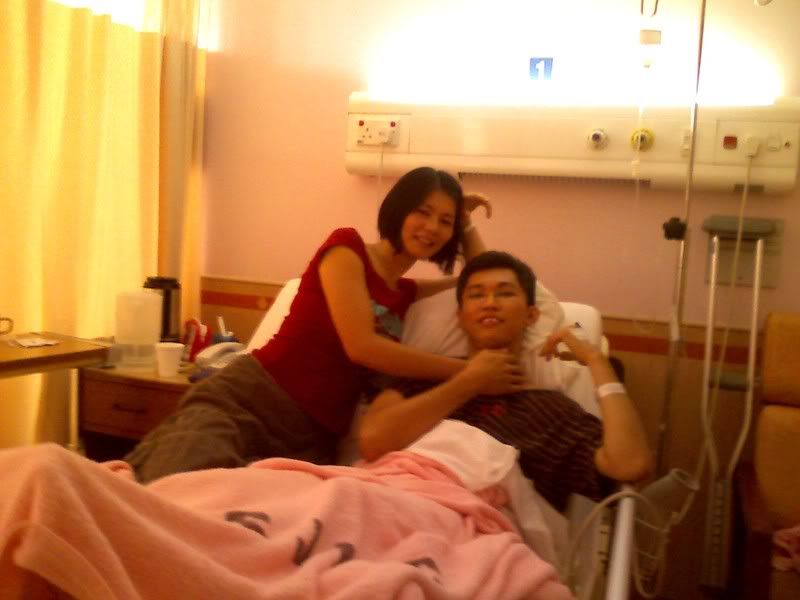 Introduction:
1. What happened? Fractured his left ankle and underwent the operation in SJMC last Friday.
2. When? 29th June 2008
3. Where? Singapore
4. How? Roller skating
5. Why Malaysia pula? Beh tahan with the Singapore's "
restructured hospital
" services.
6. Which hospital? Secret! I knew anyway!
7. How much? 5 digits, actual figure ask him personally!


Below is my conspiracy theory:
1. He miss Malaysia, does not want to go to Germany so soon!
2. He want to test the services of Singapore restructured hospital and compared to Malaysia GH.
3. He does not want to go Redang Island!
4. He want to try crutches after saw my blog on knee operation!


Results & Discussions:
1. As his wish, he will only fly to Germany in early August together with his wife.
2. There is no different between Singapore's Restructured Hospital and Malaysia's General Hospital. What we called LPPL or same-same.
3. As his wish, he got 50% refund, but end up paying more than 2k for admission to Singapore's restructured hospital (fully paid) as well as SJMC (co-insurance).
4. As his wish, he had his left ankle fractured, same as mine left knee.


Conclusion:
1. Don't ever try roller skating at the age of 32. Not a sport for old man like us that seldom/never try before. Take the sport you used to it, cycling!
2. Don't ever admit to Singapore hospital if you are not earning Singapore dollars, will cost you a bomb, futhermore if you are not PR!
3. Better mandi berdua-dua with wife rather than with nurse helping you wipe the whole body, naked!


By the way, hoping you have a speedy recovery! Cheers!